In Memoriam: Krista Kay Wenzel
1964-2021
by Thomas E. Johnson and David Oertli*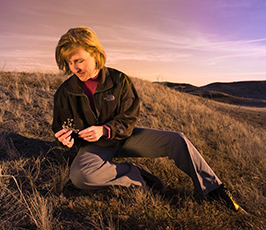 Krista Kay Wenzel was born in 1964 in Lusk, Wyoming, the daughter of George H. Wenzel and Theola Elizabeth (Meyer) Wenzel. She passed from this life suddenly in February 2021 while walking outside her home. She was just 56 years old.
Krista graduated from Wessington High School in 1983 and attended South Dakota State University, where she was active in the Air Force ROTC program. She graduated in 1987 with a mechanical engineering degree. After commissioning into the US Air Force, Krista was competitively selected from her peers to attend a full-time master's degree program sponsored by the Air Force. She graduated from the University of Florida in 1995 with a master's degree in health physics in the Department of Nuclear Engineering.
Krista served as a health physicist and scientist in the US Air Force with distinction for over 20 years, and she was awarded the Meritorious Service Medal (three oak leaf clusters), Air Force Commendation Medal (two oak leaf clusters), Air Force Outstanding Unit Award with Valor (three oak leaf clusters), and Air Force Organizational Excellence Award. She deployed both in defense of the nation and in support of humanitarian missions.
Krista was a board-certified health physicist and diplomate of the American Academy of Health Physics with over 22 years of technical and leadership experience. She directed health physics, environment, health, and safety programs at the largest operating in situ recovery uranium mine in the US for 18 months. She also assessed the risk from radioactive material contaminants on a 1,875 km-2 military weapons range area, reducing cleanup areas and ecological risk. She was the radiation safety officer for numerous US Nuclear Regulatory Commission-equivalent Air Force radioactive material licenses and directed or consulted at all levels of health physics programs during her 20-year Air Force career. She led across the full spectrum of environmental safety and health programs, including radiation risk assessment at five Air Force bases over 11 years. She developed and implemented headquarters-level programs for military locations worldwide over 9 years as an instructor, consultant, and author. She was the radiation safety officer and technical expert for a major Air Force, US Environmental Protection Agency, and Wyoming Department of Environment Quality assessment of a decommissioned nuclear reactor site near Sundance, Wyoming. She directed health, safety, and regulatory programs for the Air Force's depleted uranium munitions program and radium cleanup and oversaw 15 tons of radioactive waste disposal. She participated at local and federal levels as a chemical, biological, radiological, and nuclear incident/exercise responder and was involved in more than 80 exercises or emergency events. She developed and taught accredited college-level courses for 2 years and trained all levels of personnel in a variety of technical and leadership programs.
Nearing completion of 20 years of service in the Air Force, she contemplated working for the forest service in Wyoming but was convinced to apply for a position at the uranium mines instead. After retiring from the Air Force, she worked in uranium mining, decommissioning uranium mills, cleanup of Navajo Nation sites, and determining the magnetic and electrical hazards from locomotives. Krista was later selected to work at the International Atomic Energy Agency in Vienna, Austria, in the Division of Radiation, Transport, and Waste Safety, where she was employed for several years before returning to consulting in Wyoming and South Dakota.
Krista was serving as the president of the Rocky Mountain Chapter of the Health Physics Society and proactively promoted health physics throughout her life. She was a consummate professional whose hard work and dedication to her craft leave a void in the lives of those who knew her both personally and professionally.
She loved the outdoors and could be found running in all weather conditions and landscapes from the Alps to the prairies of South Dakota. She will be remembered fondly for running in marathons throughout Europe and the United States as well as sailing and skiing—activities that also gave her time with dear friends. She was also a founding member of the Pink Zink Sailing Club, Greece. Krista was always ready to travel with her many friends and colleagues; it would be her wish that when you travel, have fun, explore, and enjoy the adventure.
Funeral services with full military honors will be held mid-June 2021 at the Black Hills National Cemetery. Arrangements are under the care of the Lead-Deadwood Memorial Chapel in Lead. Online condolences may be written at www.fidler-isburgfuneralchapels.com.
*Adapted with permission from the Health Physics Journal In Memoriam.