Health Physics Society Journal
Contents of January 2007, Volume 92, Number 1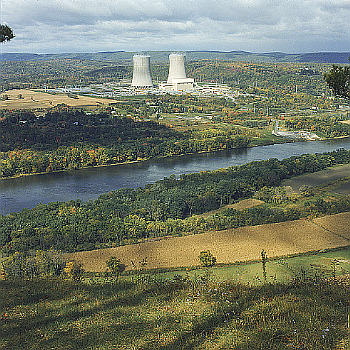 The Susquehanna River and PPL Susquehanna's nuclear power plant. A 25-year study monitoring this area was undertaken. See article by Ruth Patrick et al. on page 1 for more information.
PAPERS
Twenty-Five-Year Study of Radionuclides in the Susquehanna River via Periphyton Biomonitors — Ruth Patrick, John Palms, Danielle Kreeger, and Charles Harris
Effects of pH on DU Intake and Removal by CBMIDA and EHBP — Satoshi Fukuda, Mizuyo Ikeda, Mariko Nakamura, Xueming Yan, and Yuyuan Xie
Wavelength Dependence of Ocular Damage Thresholds in the Near-IR to Far-IR Transition Region: Proposed Revisions to MPEs — Joseph A. Zuclich, David J. Lund, and Bruce E. Stuck
Generation of Calibrated Tungsten Target X-Ray Spectra: Modified TBC Model — Paulo R. Costa, Denise Y. Nersissian, Fernanda C. Salvador, Patrícia B. Rio, and Linda V.E. Caldas
Whole-Body Clearance Kinetics and External Dosimetry of 131I-3F8 Monoclonal Antibody for Radioimmunotherapy of Neuroblastoma — Lawrence T. Dauer, Jean St. Germain, Matthew J. Williamson, Pat Zanzonico, Shakeel Modak, Nai-Kong Cheung, and Chaitanya Divgi
A Generic-Tee-Plenum Mixing System for Application to Single Point Aerosol Sampling in Stacks and Ducts — Taewon Han, Dennis L. O'Neal, and Carlos A. Ortiz
The Effectiveness of Radon Remediation in Irish Schools — Hugh Synnott, Peter Anthony Colgan, Olwyn Hanley, and David Fenton
210Po and 210Pb Inhalation by Cigarette Smoking in Italy — Donatella Desideri, Maria Assunta Meli, Laura Feduzi, and Carla Roselli
Fitting Bioassay Data and Performing Uncertainty Analysis with BIOKMOD — Guillermo Sanchez
NOTES
Concentration and Vertical Distribution of 137Cs in the Undisturbed Soil of Southwestern Nigeria — I.R. Ajayi, H.W. Fischer, A. Burak, A. Qwasmeh, and B. Tabot
Solutions to the Gaussian Cloud Approximation for Gamma Absorbed Dose — Thomas J. Overcamp
OTHER CONTENT
News and Notices
Health Physics Society Prospectus
Health Physics Society Affiliate Members
Author Guidelines
Advertisers Guide
Advertisers Index
Up and Coming

Health Physics (ISSN 0017-9078) is the Official Journal of the Health Physics Society and is published monthly by Lippincott Williams and Wilkins, 351 West Camden Street, Baltimore, MD 21201-2436. For news and abstracts, and to search past issues of the Health Physics Journal, please visit the Health Physics Journal website.