Health Physics Society Journal
Contents of November 2005, Volume 89, Number 5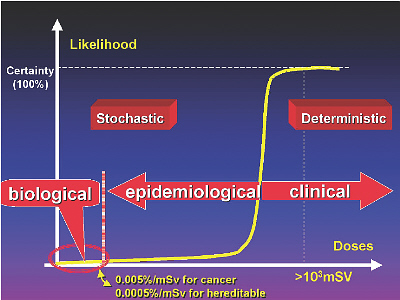 Radiation health effects at various dose levels. See article by Abel J. González on page 418 for more information.
SPECIAL SUBMISSION
The Lauriston S. Taylor Lectures in Radiation Protection and Measurements — Thomas S. Tenforde
Introduction of the 28th Lauriston S. Taylor Lecturer: Abel J. González — Brian Dodd
Lauriston S. Taylor Lecture: Radiation Protection in the Aftermath of a Terrorist Attack Involving Exposure to Ionizing Radiation — Abel J. González
OPENING REMARKS
Welcome — Thomas S. Tenforde
PAPERS
Warren K. Sinclair Keynote Address: Current Challenges in Countering Radiological Terrorism — John W. Poston, Sr.
Radiological Threat Assessment and the Federal Response Plan-A Gap Analysis — W. Craig Conklin and Philip L. Liotta
U.S. National Response Assets for Radiological Incidents — Alan L. Remick, John L. Crapo, and Charles R. Woodruff
Advances in Radiation Protection Technologies for Responders — Michael P. Unterwerger and Leticia S. Pibida
Medical Resources and Requirements for Responding to Radiological Terrorism — Fred A. Mettler, Jr.
Early-Response Biological Dosimetry-Recommended Countermeasure Enhancements for Mass-Casualty Radiological Incidents and Terrorism — William F. Blakely, Charles A. Salter, and Pataje G. S. Prasanna
Medical Management of Radiological Casualties — Ronald E. Goans and Jamie K. Waselenko
Hospital Management of Mass Radiological Casualties: Reassessing Exposures from Contaminated Victims of an Exploded Radiological Dispersal Device — James M. Smith, Armin Ansari, and Frederick T. Harper
Addressing the Psychosocial and Communication Challenges Posed by Radiological/Nuclear Terrorism: Key Developments since NCRP Report No. 138 — Steven M. Becker
Radiation Protectants: Current Status and Future Prospects — Thomas M. Seed
Defining the Full Therapeutic Potential of Recombinant Growth Factors in the Post Radiation-Accident Environment: The Effect of Supportive Care Plus Administration of G-CSF — Thomas J. MacVittie, Ann M. Farese, and William Jackson, III
International Efforts in Countering Radiological Terrorism — Brian Dodd
Chernobyl and Goiânia Lessons for Responding to Radiological Terrorism — Friedrich Steinhausler
Proposed Framework for Cleanup and Site Restoration Following a Terrorist Incident Involving Radioactive Material — W. Craig Conklin
Practical and Scientifically-Based Approaches for Cleanup and Site Restoration — John E. Till and Debra McBaugh
OTHER CONTENT
News and Notices
Health Physics Society Prospectus
Health Physics Society Affiliate Members
Author Guidelines
Advertisers Guide
Advertisers Index
Up and Coming

Health Physics (ISSN 0017-9078) is the Official Journal of the Health Physics Society and is published monthly by Lippincott Williams and Wilkins, 351 West Camden Street, Baltimore, MD 21201-2436. For news and abstracts, and to search past issues of the Health Physics Journal, please visit the Health Physics Journal website.