Health Physics Society Journal
Contents of March 2005, Volume 88, Number 3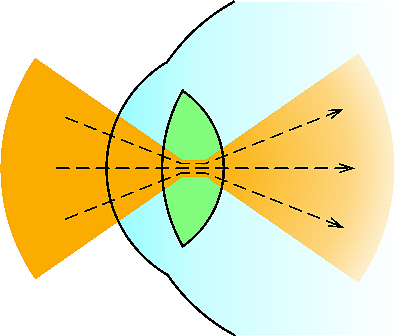 Thermal hazard to the crystalline lens from a focal optical beam. See article by Tsutomu Okuno et al. on 214 for more information.
REVIEW ARTICLES
The Heath Physics Society: A 50-Year Chronology — Alex J. Boerner and Ronald L. Kathren
PAPERS
Temperature Rises in the Crystalline Lens from Focal Irradiation — Tsutomu Okuno, Masami Kojima, Ikuho Hata, and David H. Sliney
Validating an Important Aspect of the New ICRP Biokinetic Model of Thorium — P. Roth, V. Höllriegl, W. B. Li, U. Oeh, and P. Schramel
Urine, Hair, and Nails as Indicators for Ingestion of Uranium in Drinking Water — Z. Karpas, O. Paz-Tal, A. Lorber, L. Salonen, H. Komulainen, A. Auvinen, H. Saha, and P. Kurttio
The Possible Contribution of 129I in the Drinking Water and Food Supply to the Nodular Formation of Thyroid Tissue — Osman Dogru, Mahmut Dogru, Erhan Aygen, Cemalettin Camci, Cuneyt Kirkil, Cumhur Canbazoglu, and Sultan Sahin
Anomalously High Levels of Uranium and Other Naturally Occurring Radionuclides in Private Wells in the Piedmont Region of South Carolina — Lara D. Hughes, Brian A. Powell, Aurelie M. Soreefan, Deborah A. Falta, and Timothy A. DeVol
Naturally Occurring Radionuclides in Community Water Supplies of New York State — Michael E. Kitto and Min Sook Kim
OPERATIONAL TOPICS
A Useful Formula for the Radiological Calibration Laboratory — F. M. Cummings
BOOK REVIEWS
Risk Communication, A Handbook for Communicating Environmental, Safety, and Health Risks, Third Edition — Reviewed by Raymond Johnson
Radiation Protection in Dentistry — Reviewed by Sharon L. Brooks
The Answer to Cancer — Reviewed by Geoffrey G. Eichholz
Managing Patient Dose in Digital Radiology — Reviewed by Geoffrey G. Eichholz
Current Trends in Radiation Protection — Reviewed by Ruth E. McBurney
OTHER CONTENT
News and Notices
Health Physics Society Prospectus
Health Physics Society Affiliate Members
Author Guidelines
Advertisers Guide
Advertisers Index
Up and Coming

Health Physics (ISSN 0017-9078) is the Official Journal of the Health Physics Society and is published monthly by Lippincott Williams and Wilkins, 351 West Camden Street, Baltimore, MD 21201-2436. For news and abstracts, and to search past issues of the Health Physics Journal, please visit the Health Physics Journal website.