Health Physics Society Journal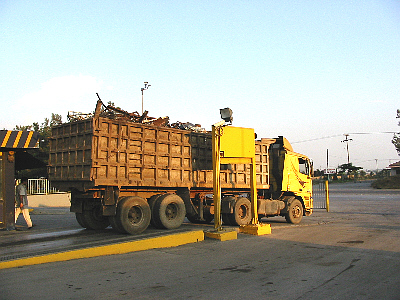 A truck loaded with scrap metal passes through a gamma detector to avoid potential contamination in recycled materials. See article by A. Clouvas et al. on page 154 for more information.
Contents of February 2005, Volume 88, Number 2
TECHNOLOGY MONITOR
Uranium-Munching Microbes — Ken Kasper
REVIEW ARTICLES
A Review of the History of U.S. Radiation Protection Regulations, Recommendations, and Standards — Cynthia Gillian Jones
PAPERS
Adaptation of the ICRP Publication 66 Respiratory Tract Model to Data on Plutonium Biokinetics for Mayak Workers — V. F. Khokhryakov, K. G. Suslova, V. V. Vostrotin, S. A. Romanov, K. F. Eckerman, M. P. Krahenbuhl, and S. C. Miller
Method for Estimating Ingestion Doses to the Public near the Savannah River Site Following an Accidental Atmospheric Release — A. A. Simpkins
Electron Paramagnetic Resonance and Fluorescence In Situ Hybridization-Based Investigations of Individual Doses for Persons Living at Metlino in the Upper Reaches of the Techa River — Marina O. Degteva, Lynn R. Anspaugh, Alexander V. Akleyev, Peter Jacob, Denis A. Ivanov, Albrecht Wieser, Marina I. Vorobiova, Elena A. Shishkina, Valentina A. Shved, Alexandra Vozilova, Sergey N. Bayankin, and Bruce A. Napier
NOTES
In Situ Gamma Spectrometry Measurements and Monte Carlo Computations for the Detection of Radioactive Sources in Scrap Metal — A. Clouvas, S. Xanthos, G. Takoudis, C. Potiriadis, and J. Silva
Output of Radiopharmaceutical Nuclides of Known Injected Doses from a Municipal Sewage Treatment System — Ayako Nakamura, Naofumi Hayabuchi, Tomoe Osaki, and Susumu Osaki
Measurements of Radioactivity in Books and Calculations of Resultant Eye Doses to Readers — M. Abid Imtiaz, Aleya Begum, A. S. Mollah, and M. A. Zaman
BOOK REVIEWS
Radiation Protection for Particle Accelerator Facilities — Reviewed by Alberto Fassò
Preparedness and Response for a Nuclear or Radiological Emergency — Reviewed by Lawrence T. Dauer
OTHER CONTENT
News and Notices
Health Physics Society Prospectus
Health Physics Society Affiliate Members
Author Guidelines
Advertisers Guide
Advertisers Index
Up and Coming

Health Physics (ISSN 0017-9078) is the Official Journal of the Health Physics Society and is published monthly by Lippincott Williams and Wilkins, 351 West Camden Street, Baltimore, MD 21201-2436. For news and abstracts, and to search past issues of the Health Physics Journal, please visit the Health Physics Journal website.