Health Physics Society Journal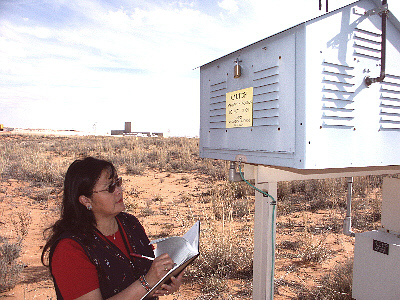 WIPP radiological engineer observing an environmental low volume air sampler with the WIPP site in the background. Photo courtesy of Alan Rostro. See article by Robert Hayes on page 429 for more information.
Contents of October 2004, Volume 87, Number 4
REVIEW ARTICLE
Environmental Health Physics-50 Years of Progress — Dade W. Moeller
PAPERS
Dose Audit and Evaluation of Work Practices during Barium Procedures Using Digital Radiography Techniques — Roshan S. Livingstone, Philomina Augustine, I. Aparna, and D. Victor Raj
Radioresistance in Mammals Induced by Low-Level Chronic Irradiation: Modeling and Experimental Investigations — O. A. Smirnova and M. Yonezawa
Application of the ICRP Clarification of the Tritium Metabolic Model — Charles A. Potter
Radiation Protection Principles of NCRP — Kenneth R. Kase
Radiological Assessment of Petroleum Pipe Scale from Pipe-Rattling Operations — I. S. Hamilton, M. G. Arno, J. C. Rock, R. O. Berry, J. W. Poston, Sr., J. R. Cezeaux, and J-M. Park
Estimating the Dose Response Relationship for Occupational Radiation Exposure Measured with Minimum Detection Level — Xiaonan Xue, Roy E. Shore, Xiangyang Ye, and Mimi Y. Kim
Room Model with Three Modal Distributions of Attached Radon Progeny — D. Nikezić and N. Stevanović
2003 Review of Neutron and Non-Neutron Nuclear Data — Norman E. Holden, Richard N. Reciniello, and Jih-Perng Hu
NOTES
Uncertainties in Doses Due to the Number of Aerosol Particles: Study on 239PuO2 Using Default Parameters for Workers — P. Fritsch
Sorption of 99mTc Radiopharmaceutical Compounds by Soils — Silvia Jurisson, James Gawenis, and Edward Landa
OPERATIONAL TOPICS
A New Technique for Preliminary Estimates of TRU Activity on Air Sample Filters and Radiological Smears — Robert Hayes
BOOK REVIEWS
Understanding Radioactive Waste, 5th Edition — Reviewed by Dennis Quinn
Beyond Engineering: How Society Shapes Technology — Reviewed by Edward Waller
OTHER CONTENT
News and Notices
Health Physics Society Prospectus
Health Physics Society Affiliate Members
Author Guidelines
Advertisers Guide
Advertisers Index
Up and Coming

Health Physics (ISSN 0017-9078) is the Official Journal of the Health Physics Society and is published monthly by Lippincott Williams and Wilkins, 351 West Camden Street, Baltimore, MD 21201-2436. For news and abstracts, and to search past issues of the Health Physics Journal, please visit the Health Physics Journal website.