Health Physics Society Journal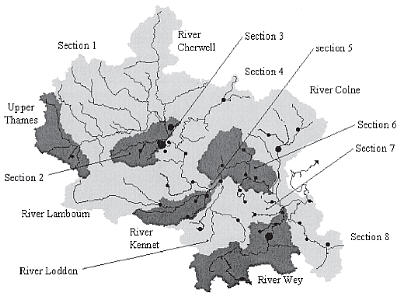 The upper River Thames catchment area. See article by J. Hilton et al. beginning on page 33 for more information.
Contents of July 2004, Volume 87, Number 1
TECHNOLOGY MONITOR
Time, Distance, Shielding, and Radioprotectants — Ken Kasper
REVIEW ARTICLE
Radiation Biology: Concepts for Radiation Protection — R. Julian Preston
PAPERS
Estimation of Thyroid Radiation Doses for the Hanford Thyroid Disease Study: Results and Implications for Statistical Power of the Epidemiological Analyses — Kenneth J. Kopecky, Scott Davis, Thomas E. Hamilton. Mark S. Saporito, and Lynn E. Onstad
The Combined Impact on Doses to Man of Multiple, Authorized, Radionuclide Discharges for the Year 1999 Reaching the Upper River Thames, UK — J. Hilton, M. Harvey, and J. Simmonds
Difficulty in Dislodging In Vivo Fixed Radiostrontium — V. R. Sonawane, V. S. Jagtap, D. N. Pahuja, M. G. R. Rajan, and A. M. Samuel
Biologic Monitoring for Urinary Uranium in Gulf War I Veterans — Melissa A. McDiarmid, Katherine Squibb, and Susan M. Engelhardt
Depleted Uranium Dust from Fired Munitions: Physical, Chemical, and Biological Properties — R. E. J. Mitchel and S. Sunder
The U.S. Environmental Protection Agency's Assessment of Risks from Indoor Radon — D. J. Pawel and J. S. Puskin
Measuring Method of Undamaged Samples for the Radiation Levels of Decorative Building Materials — Mao Yahong, Lin Libin, and Liu Yigang
Effect of a Grounded Object on Radon Measurement — Hirokazu Ichitsubo and Yuji Yamada
FORUM
Mobile Phones in the Hospital: Improved Mobile Communication and Mitigation of EMI Concerns Can Lead to an Overall Benefit to Healthcare — Joseph J. Morrissey
OPERATIONAL TOPIC
Solubility Characterization of Airborne Uranium from a Uranium Recycling Plant — Robert Metzger and Leslie Cole
BOOK REVIEWS
Laser Safety — Reviewed by Ronald H. Reif
Image Quality in Chest Radiography — Reviewed by Anthony B. Wolbarst
Foundations of Image Science — Reviewed by Anthony B. Wolbarst
OTHER CONTENT
In Memoriam-Jacob Neufeld
News and Notices
Health Physics Society Prospectus
Health Physics Society Affiliate Members
Author Guidelines
Advertisers Guide
Advertisers Index
Up and Coming

Health Physics (ISSN 0017-9078) is the Official Journal of the Health Physics Society and is published monthly by Lippincott Williams and Wilkins, 351 West Camden Street, Baltimore, MD 2101-2436. For news and abstracts, and to search past issues of the Health Physics Journal, please visit the Health Physics Journal website.