Health Physics Society Journal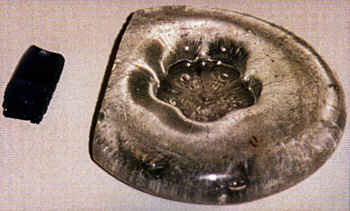 A glass button found near ground zero at Hiroshima contains neutron-induced fission tracks because of its uranium content of 0.44 ppm. Exposure of the smaller fragments to neutrons in a reactor gave a calibration for finding the fluence on August 6, 1945, and at the same time it colored the glass a deep blue. See article by R. L. Fleischer et al. on page 719 for more information.
Contents of December 2001, Volume 81, Number 6
AWARDS
2001 Founders Award-J. Newell Stannard — Citation by Kathleen Dinnel-Jones
2001 Founders Award-Paul L. Ziemer — Citation by Mack L. Richard
2001 Elda E. Anderson Award-Tsz-Yik Edmond Hu — Citation by Darrell R. Fisher
2001 Distinguished Scientific Achievement Award-John H. Hubbell — Citation by Kathryn H. Pryor
2001 Outstanding Science Teacher Award-Michael A. Mocherman — Citation by Kathleen M. Hintenlang
2001 Robley D. Evans Commemorative Medal-Allen Brodsky — Citation by Neil M. Barss
2001 Health Physics Society Fellow Members and Student Awards
2001 William B. McAdams Outstanding Service Award-George J. Vargo, Jr. — Citation by Kathryn H. Pryor
National Registry of Radiation Protection Technologists Arthur F. Humm, Jr., Memorial Award-Paul W. Harvey — Citation by Don W. Marshall
EDITORIAL
Soft Proofing — Michael T. Ryan
NEWS ON THE NET
Travel — Bruce Busby
GUEST EDITORIAL
Special Issue on Litigation — Bruce Busby
LITIGATION
The Whistleblower Implications of Radiation Injury Lawsuits: Lessons Learned from In Re McCafferty — Charles F. Rysavy and J. Wylie Donald
Radiation Litigation and the Nuclear Industry-The Experience in the United Kingdom — William J. Leigh and Richard Wakeford
Spread of 60Co Contaminated Steel and Its Legal Consequences in Taiwan — Jau-Yuan Hwang, Joseph B. H. Chang, and Wushou P. Chang
The Role of the Radiation Safety Specialist as Witness: Risk Communication with Attorneys, Judges, and Jurors — Raymond H. Johnson, Jr.
Application of the Supreme Court's Daubert Criteria in Radiation Litigation — Steven E. Merwin, Dade W. Moeller, William E. Kennedy, Jr., and Matthew P. Moeller
Admissibilty of Scientific Evidence Post-Daubert — Jeff Masten and Jadwiga "Jodi" Strzelczyk
Pre-Litigation Strategies-Gathering and Preserving Documentary Evidence — G. D. Richmond, P. D. Robinson, and S. L. Trubatch
REVIEW ARTICLES
Review of 239Pu and 226Ra Effects in Beagles — R. D. Lloyd, G. N. Taylor, S. C. Miller, F. W. Bruenger, and W. S. S. Jee
PAPERS
Radionuclides in Peconic River Fish, Mussels, and Sediments — Andrew Rapiejko, Robert Rosson, Jeffrey Lahr, Ramon Garcia, and Bernd Kahn
Non-Invasive Measurement of Water Content in Lung Phantom by Neutrons: Latest Improvements to the Technique — F. Campi and F. Dionigi
An Evaluation of Germanium Detectors Employed for the Measurement of Radionuclides Deposited in Lungs Using an Experimental and Monte Carlo Approach — Joel L. Webb and Gary H. Kramer
NOTES
Hiroshima Neutron Fluence on a Glass Button from Near Ground Zero — R. L. Fleischer, S. Fujita, and M. Hoshi
222Rn Concentration in Ground Waters of Coastal Karnataka and Kaiga of South West Coast of India — H. M. Mahesh, D. N. Avadhani, N. Karunakara, H. M. Somashekarappa, Y. Narayana, and K. Siddappa
CORRESPONDENCE
Radon Health Spas — Geoffrey G. Eichholz
Response to Eichholz — J. Huber and O. Ennemoser
Public Involvement in Science and Decision Making? — Steve Tarlton
Response to Tarlton — Reviewed by John E. Till
OTHER CONTENT
News and Notices
Health Physics Society Prospectus
Health Physics Society Affiliate Members
List of 2000-2001 Journal Reviewers
List of Contents for Volume 81
Author Index for Volume 81
Subject Index for Volume 81
ORS Author Index for Volume 80 and 81
ORS Subject Index for Volume 80 and 81
Author Guidelines
Advertisers Guide
Advertisers Index
Up and Coming