In Memoriam: Theodore Rockwell
1923-2013
by HPS staff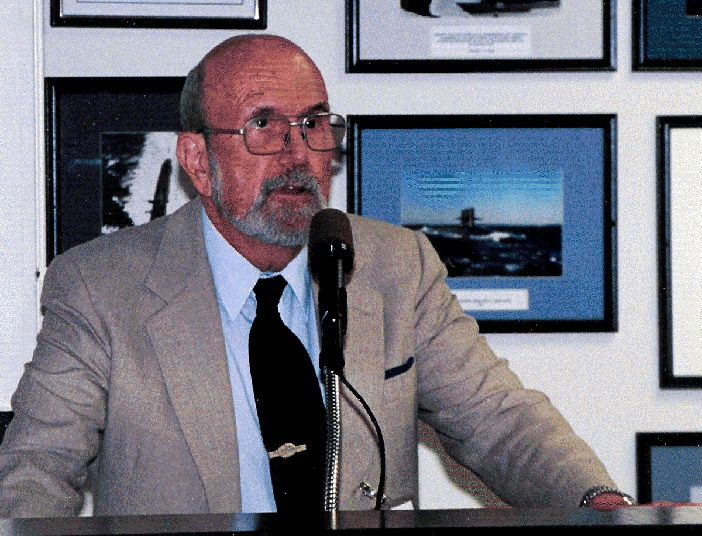 Theodore Rockwell, 90, died in his sleep at his home on 31 March 2013 as a result of a brief illness.

Rockwell was directly involved in nuclear power for over 60 years, starting in 1943 in an elite Process Improvement Task Force at the war-time atomic bomb project at Oak Ridge, Tennessee.

After the war, he transferred to the Oak Ridge National Laboratory and became head of the Radiation Shielding Engineering Group. In 1949 then-Captain H.G. Rickover hired him to work in the Naval Nuclear Propulsion Program.

In 1954 he became technical director, responsible to Admiral Rickover for helping to develop criteria, procedures, and facilities for safe operation of nuclear-powered naval vessels and the world's first commercial central station nuclear power plant. In 1960 he was awarded an honorary ScD degree for his contributions toward the development of atomic power. In 1964 he left with two colleagues to set up the respected engineering firm MPR Associates, Inc.

Rockwell was given Distinguished Service Medals by both the Navy and the U.S. Atomic Energy Commission, an "Award for Exemplary Achievement in Public Administration," by the William A. Jump Foundation, and the first "Lifetime Contribution Award, henceforth known as the Rockwell Award," by the American Nuclear Society.

He was the only nonmedical member of the Advisory Group on the National Artificial Heart Program (1966) and a member of the Advisory Council, Princeton University Department of Chemical Engineering (1966–1972). From 1965 to 1968, he was a research associate with the Johns Hopkins School of Advanced International Studies. He was chairman of the Atomic Industrial Forum's Reactor Safety Task Force (1966–1972) and consultant to the Joint Congressional Committee on Atomic Energy (1967). In 2006 Doctors for Disaster Preparedness awarded him the Edward Teller Award for "outstanding and courageous contributions to American science." That same year, as designated Distinguished Speaker, he addressed the students and faculty of the World Nuclear University at its Summer Institute in Stockholm. In 2007 he played the same role for the Summer Institute when it met in Seoul, South Korea.

Rockwell was author or coauthor of several key books on the early history of nuclear technology. He was editor of The Reactor Shielding Design Manual (GPO, McGraw-Hill, and VanNostrand). He coauthored Arms Control Agreements: Designs for Verification (Johns Hopkins Press), used in US-USSR talks at the White House, and The Shippingport Pressurized Water Reactor (Addison-Wesley). His latest book was a speculative science novel, The Virtual Librarian: A Tale of Alternative Realities (December 2007). His works have been published in German, Dutch, Russian, Chinese, Japanese, and Korean.

Rockwell was a member of the Health Physics Society, a fellow of the American Nuclear Society, and a vice president and a founding director of Radiation, Science & Health, Inc., an international nonprofit organization of independent radiation experts committed to bringing radiation policy into line with the best scientific data and theory. He was a member of the National Academy of Engineering, which selected him in 2003 to be its first Sigma Xi Distinguished Lecturer. He was a life member of the Philosophical Society of Washington, founded by Joseph Henry, and a ruling elder of the Presbyterian Church. He was a contributor to the HPS newsletter, most recently in the December 2012 issue of Health Physics News.

Rockwell was predeceased by his wife of close to 65 years, Mary Juanita Compton Rockwell, and his eldest son, Robert C. Rockwell. He is survived by his children, W. Teed Rockwell, Lawrence E. Rockwell, and Juanita C. Rockwell, along with granddaughters, Cyrena Rockwell and Angela Cescati, and great-granddaughter, Viviana Cescati.