In Memoriam: Richard D. Terry
1935-2012
Robert May, CHP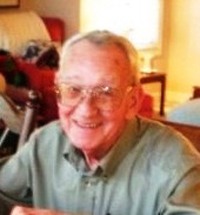 Richard D. Terry passed away on 30 September 2012. Richard, better known as Dick, was a native of Beaver, Ohio, and had been a resident of Newport News, Virginia, for over 20 years.
Dick's career focused on providing products and support services to the nuclear industry. He worked for Dosimeter of Ohio, a former Health Physics Society (HPS) affiliate, for several years. He also owned and operated Terry Associates. He was a continuous plenary member of the HPS since 1975.
His father, DeWitt Terry, and mother, Christina Smith, preceded Dick in rest. Left to cherish his memory is his wife of 58 years, Betty Davis Terry; sons, Eric D. Terry and his wife Leslie and Matt Terry; daughter, Brenda Terry Haag and her husband Jess; and seven grandchildren, Carlton Scott Mitchell and his wife Kimberly, Heather Ann Mitchell, Hunter Terry, Emma Terry, Reed Terry, Emily Flynn, and Jessica Birch.
His professional colleagues remember Dick from Virginia Chapter HPS meetings. He was an active chapter member for a stretch of years in the 1990s. He valued all his professional contacts in the chapter and in the Society. We routinely discussed many health physics projects with him because of his broad interests in our profession.