In Memoriam: Leonard S. "Lee" Sygitowicz
1941-2014
Billy Smith, Ken Crase, and Martha DeMarre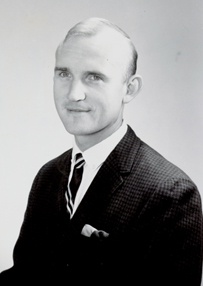 Leonard S. "Lee" Sygitowicz passed away peacefully 27 December 2014 at home in Idaho Falls, Idaho.
Lee was born in Bellingham, Washington, on 14 November 1941 to Leonard S. and Agnes (Scutvik) Sygitowicz. Lee grew up in Darrington and Van Zandt, Washington. He graduated from Mount Baker High School in 1959 and married Beverly Gorum on 18 September 1965.
Lee's professional career took him to the Nevada Test Site (NTS), the Bremerton Naval Shipyard, and Idaho National Laboratory (INL). He began his long career in the nuclear field in 1961 as a health physics technician at the NTS on a periodic basis while pursuing his degree in physics at Western Washington University. After completing his BS, he was employed in health physics field operations by Reynolds Electrical and Engineering Company (REECo) at the NTS. He advanced to be the health physics support superintendent for Los Alamos National Laboratory operations at the NTS.
In 1973 Lee accepted a position as a civilian professional with the U.S. Navy at Bremerton Naval Shipyard in Washington, specializing in radiation dosimetry. Taking a break from health physics, he then spent several years as a partner in a family-owned forest logging and road construction firm before reentering the health physics profession with REECo in 1987 as the laboratory operations director for environmental operations.
When Bechtel assumed the NTS contract in 1996, Lee was assigned responsibility for radioactive waste management at the NTS. In this capacity, he managed a large low-level radioactive waste disposal site and developed a facility for packaging and certifying transuranic waste.
In 1999 Lee joined Bechtel BWXT at INL with responsibility for the radioactive waste management program. His efforts in the retrieval, packaging, certification, and shipment of transuranic waste were exemplary. Toward the end of his career, he returned to his health physics roots as the head of health physics at INL.
After retiring from INL, he joined M.H. Chew & Associates, Inc., in November 2011, providing professional health physics and management consulting services.
Lee had been a member of HPS since 1985 and rarely failed to attend an annual meeting. His dedication to the profession prompted him to obtain certification by the American Board of Health Physics as well.
Another of Lee's professional passions was to promote excellence in radiation measurements. He was a member of the Department of Energy Laboratory Accreditation Program (DOELAP) Oversight Board from 1983 until after his retirement from INL, serving as chairman from 1997 until 2013.
According to colleague Ken Crase, with whom he served on the Oversight Board, Lee had great skill in resolving professional differences. At one Oversight Board meeting Lee had to depart for an hour or so to take care of some urgent business while two of his fellow board members hotly debated a dosimetry issue. Upon his return the two were still going at it. Lee calmly observed that the debate had extended over two hours, but that the two had switched sides on the issue. The issue was immediately resolved.
Lee was highly respected by his peers and those who knew him personally. His integrity, intelligence, knowledge, dedication to the mission, professionalism, and calm, steady approach to problem solving will be long remembered and missed by many.
According to another colleague, Martha DeMarre, Lee was very easy to work with and very fair. In fact, DeMarre said, "Several of us female health physicists made him an honorary member of the 'old girls' network."
He enjoyed skiing, spending time with his family, and working on his farm. He will be remembered as a loving husband and father and a great mentor and leader.
Lee is survived by his loving wife of 49 years, Beverly; daughters, Lisa (Woody) Hughes of Sierra Vista, Arizona, and Jaime Sygitowicz of Colorado Springs, Colorado; brother, Bill (Louise) Sygitowicz; sister, Theresa Sygitowicz; and many loving relatives and friends.