In Memoriam: Jearold Clay Eakins
1942-2019
Florida Chapter of the Health Physics Society (FCHPS)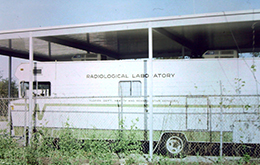 Old mobile lab
We were all saddened to hear of the passing of Jerry Eakins, FCHPS past treasurer (1998–1999) and longtime newsletter editor. Jerry's contributions and support to our chapter were outstanding. Chapter members who knew and worked with Jerry were blessed to have someone who was always friendly, helpful, and very knowledgeable—he will be missed. Our thoughts and prayers go out to his family.
Jearold Clay Eakins, 75, died 26 January 2019 surrounded by family at his home in Apopka, Florida, after a year-long battle with cancer. Jerry was born on 7 February 1942 in Louisville, Kentucky, to Marion and Susan Eakins. He served in the US Air Force as a radar repairman from 1961 to 1965. He then received a bachelor of science in marine biology from the University of West Florida in 1969 and had a long, successful career for over 30 years as a health physicist for the state of Florida. He married Janice Ream on 3 May 1963, and together they raised three sons: Nathaniel, Matthew, and Jonathan.
Jerry joined the Florida Bureau of Radiation Control in January of 1970 and retired in 2005. He was instrumental in the green field environmental surveillance program around St. Lucie and Crystal River nuclear power plants. Jerry also served as supervisor of the water laboratory and was the emergency response manager for 20+ years, overseeing nuclear power plant exercises, NASA space launches, and numerous responses to radiation incidents. He was instrumental in creating the bureau's radiological response training program for first responders throughout the state, was the designer of the state's first mobile emergency radiological laboratory (a converted Winnebago), and was the Florida lead for the first Federal Radiological Monitoring and Assessment Center national drill held in 1984 at the St. Lucie Nuclear power plant. Jerry was a member of both the national HPS and the Florida Chapter.
Jerry was an active member of Antique Automobile Club of America and Wekiva Presbyterian Church and was a volunteer at Loaves and Fishes. He also enjoyed fishing, restoring antique cars, traveling, and spending time with his family. Jerry was known as a "handyman" and could fix most things mechanical or electrical. He gladly gave his time to help his friends and family. He is survived by his wife, three sons, six grandchildren, and two brothers.
Jerry's memorial service was held on 30 January at Wekiva Presbyterian Church in Longwood, Florida. The family requested donations to Loaves and Fishes in Apopka in lieu of flowers.