In Memoriam: William (Jack) Beck
1942-2023
by Howard Dickson, Eric Abelquist (UCOR), Mike Mahathy (ORAU), Alex Boerner (ORAU), Sarah Roberts (Energy Solutions), Jeff Chapman (NNSA)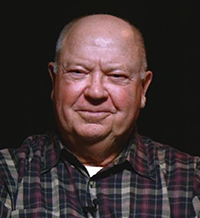 William Lester "Jack" Beck, Jr. (81) passed away peacefully on Tuesday, 18 April 2023. He was born on 26 February 1942, in Chattanooga, Tennessee, as William Lester Beck. His father quickly nicknamed him Jack in respect for his favorite boxer, Jack Dempsey. His family called him Jackie, his friends and colleagues called him Jack, and his very favorite people called him Poppy.
Jack graduated as the valedictorian of Lakeview High School in Rossville, Georgia. He was a member of the football team called "Wade's Warriors" because they went to the state playoffs every year. He was extremely proud when the football field was renamed in their honor in 2013.
Jack had a very distinguished career in nuclear health physics. He received his BS in engineering physics from the University of Tennessee (UT) Chattanooga in 1964. He earned his MS in health physics from UT Knoxville in 1971. He made his first significant scientific accomplishment in 1965 as a summer intern at Oak Ridge National Laboratory. Working under the guidance of Lew Bradshaw in the Health Physics Division, Jack developed the first dosimeters rugged enough to withstand the harsh environment in the proposed radioactive waste disposal site in the salt mines near Lyons, Kansas. The dosimeter had to record megarad doses delivered by spent reactor fuel canisters at 100°C in the corrosive salt environment. Jack successfully tested radio-photoluminescent glass rods encased in tantalum shields.
Jack worked for Oak Ridge Associated Universities (ORAU) as a radiation dosimetrist and quickly developed a passion for radiation protection. During his tenure with ORAU, he achieved certification from the American Board of Health Physics. While at ORAU, Jack served in various health physics-related roles, including dosimetrist, training coordinator, and as section leader for both emergency response and radiation epidemiology. In 1972, he became the coordinator for the ORAU Special Training Division's health physics training programs and helped train hundreds of young health physicists from the Nuclear Regulatory Commission (NRC) and the state radiological health programs. He also had a significant role in writing the proposal for and overseeing the construction of the Radiation Emergency Assistance Center/Training Site (REAC/TS).
From 1982 through 1991, Jack served as a radiation safety manager for the Formerly Utilized Sites Remedial Action Program (FUSRAP) project with Bechtel. Throughout this project, he exemplified the tremendous leadership that is required to assure that radiation protection remains in the forefront, even in a sometimes challenging and difficult construction environment. In 1991, Jack's roots brought him back to ORAU, where he was director for the Radiological Safety, Assessment, and Training program and continued a very successful and robust independent verification program (begun in the early 1980s by his ORAU colleague James Berger, CHP) for both the Department of Energy and the NRC. After retiring from full-time work at ORAU, Jack returned part-time to serve as a consultant and senior health physicist on the National Institute for Occupational Safety and Health (NIOSH) Dose Reconstruction Project.
Throughout his 49-year professional health physics career, Jack served as a steadfast leader not only for the Health Physics Society (HPS) and the East Tennessee Chapter (ETCHPS) but for the profession. He served as secretary of ETCHPS from 1977 to 1978 and president-elect/president from 1980 to 1981. Accordingly, ETCHPS honored Jack with the Distinguished Service Award in 1990. He learned well from his mentor, Roger Cloutier, when it came to leading by example for motivating young health physicists to join and support the HPS and local chapter. Jack served as an HPS director from 1987 to 1990. For his meritorious service, he was named an HPS Fellow in 1998. In 2014, he deservedly received one of the most prestigious awards granted by HPS, that being the Founders Award. Jack truly loved his work and didn't completely retire until 2020.
Jack positively affected the lives of many health physicists, including each author of this memoriam. Although his résumé is incredibly impressive in itself, what distinguished Jack as a health physicist and a human being was his rare combination of passion and compassion. He was a true leader in the sense that he was completely dedicated to his profession and had a genuine desire to perpetuate that enthusiasm and energy in those he mentored. Just listening to Jack talk about the world of health physics was enough to excite any new, young graduate or employee. In his own words, his most important contribution to health physics was "the encouragement and promotion of the careers of the young people that worked for me." Proof positive of this was his health physics "claim to fame" that he had nominated six young health physicists for the Society's Elda E. Anderson Award, and all six were selected. Because of the efforts of him and others, our Society, profession, and the world are better places.
Outside of work, Jack loved water sports. He loved fishing with a passion, and he also adored taking his children and grandchildren out on the lake to ski and tube. Living in his dream home on Ft. Loudon Lake, Jack loved to entertain friends and family with an afternoon on the lake and an amazing meal at the end of the day. Those who knew Jack know he loved his wife, children, and grandchildren. He would tell stories about fishing and his grandchildren to those accompanying him on trips. Jack taught us how to treat others.
Jack was preceded in death by his beloved wife of 54 years, Nancy Irwin Beck; parents, William L. Beck, Sr., and Reba Grant Beck; brother, Donald Ray Beck; and best friend, Howard Dickson, who posthumously coauthored this memoriam. Jack is survived by his daughters, Cindy (Steve) Hollander, Angie (Kelly) Munsey, and Cristy (Bill) Summers; son, Steve (Erin) Beck; sister, Beverly (Bill) Smith; brother, T.A. (Rheta) Beck; precious pup, Tia; and 15 grandchildren whom he adored: Amanda, Andrew, Jeremy, Sean, Gracie, Stevie, Belle, Megan, Audrey, Emma, Louisa, Ella, Becca, Cherry, and Sophie.
In lieu of flowers, the family would like to request donations to A Paw and a Prayer Dog Rescue, Chattanooga, Tennessee; St. Jude Children's Research Hospital (because Jack loved children); or Alzheimer's Tennessee.
A celebration of life service will be held on Sunday, 21 May 2023, 1–3 pm, at Click Funeral Home in Lenoir City, Tennessee.