In Memoriam: Brian Joseph Perri
1979-2018
Amber Harshman and Kimo McEwen*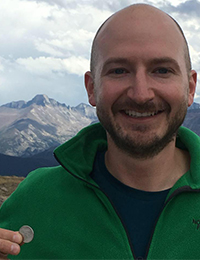 Brian Joseph Perri was born 30 December 1979, in Carbondale, Pennsylvania, the son of Donald and Nancy Perri. He died suddenly from an accidental fall on 30 June 2018, while hiking on Mt. Meeker in Rocky Mountain National Park. He was just 38 y old.
In 1998, after graduating from Carbondale Area High School, Brian joined the US Army. He was stationed at Fort Bragg, North Carolina, and served in the 8th Psychological Operations Battalion (Airborne) as a psychological operations specialist. He was a graduate of the John F. Kennedy Special Warfare Center Psychological Operations course; Survival, Evasion, Resistance and Escape (SERE) School; and Arabic linguist training, as well as Airborne School at Fort Benning, Georgia. He was known among his fellow soldiers for his unwavering determination, survival skills, and quirky sense of humor. A well-known story about Brian, an avid marksman and firearms aficionado, involved a time when he returned to the barracks from a gun show, excitedly showing friends cases of ammunition that he had purchased, and poured out thousands of bullets onto his bed and rolled around in them, cackling with glee, like Scrooge McDuck in his money bin. While in the Army, Brian was deployed to the Middle East supporting Operation Southern Watch, Operation Enduring Freedom, and Operation Iraqi Freedom. Brian was honorably discharged in 2003, at the rank of sergeant. Brian then attended Bloomsburg University of Pennsylvania, earning his bachelor's degree in health physics. He started his career in health physics as a radiological engineer with Exelon Generation at Limerick Station in Pottstown, Pennsylvania. Brian left Exelon Generation in 2016 to earn a master's degree in radiological health sciences at Colorado State University in Fort Collins, Colorado. For his master's thesis research, Brian used Monte Carlo N-Particle (MCNP) modeling to determine lens dose conversion factors for mice living in the Fukushima exclusion zone in various exposure scenarios. While attending Colorado State University, Brian earned certification by the American Board of Health Physics, thereby becoming a certified health physicist.
Brian had many hobbies and was particularly proud to have recently learned to skateboard while attending Colorado State University. He was also able to solve the Rubik's Cube in less than 2 min, completing the last 10 moves over his head with his eyes closed. Brian loved to collect art and to read books about philosophy; his favorite philosopher was Carl Jung. Brian often liked to share his thoughts on philosophy, music theory, and other topics, which sparked interesting debate and discussion with friends. He was also very interested in the Myers-Briggs Type Indicator (MBTI) test and loved to analyze people, often correctly predicting an individual's personality type shortly after meeting them. Brian was a passionate hiker and strove to live a full Colorado lifestyle, having hiked six 14ers in addition to having gone on numerous other hikes throughout Rocky Mountain National Park and the nearby foothills.
Brian was truly a unique individual, and he will be forever missed by many friends and family members.
"There he goes. One of God's own prototypes. A high-powered mutant of some kind never even considered for mass production. Too weird to live, and too rare to die." —Hunter S. Thompson, Fear and Loathing in Las Vegas
*Reprinted with permission from Health Physics (Copyright © 2019 Health Physics Society 0017-9078/19/0 DOI: 10.1097/HP.0000000000001065)