Minority Women in Radiation Protection
Hattie Carwell
Interview by Sidni M. Moore, National Institutes of Health
Hattie Carwell
Photo courtesy of AIP Emilio Segrè Visual Archives, Ronald E. Mickens Collection
 
It's in the click of my heels,
The bend of my hair,
The palm of my hand,
The need for my care.
'Cause I'm a woman
Phenomenally.
Phenomenal woman,
That's me.
This excerpt from the late Maya Angelou's poem "Phenomenal Woman" embodies Hattie Carwell's effortless passion and dedication to health physics and minority progression. I knew she was someone I wanted to speak with, given her astonishing career and dedication to increasing minorities in radiation protection. On 10 October 2020, I interviewed Hattie. My first impression was that she is a very straightforward woman, and I did not want to disappoint her with typical questions. Over the course of two hours and 35 minutes, the conversation was infused with memories and advice that I wanted to share with you. This dedication and insight into Hattie's career will allow you to comprehend why I call her "the phenomenal woman."
Born in Brooklyn, New York, but raised in Ashland, Virginia, Hattie's journey through health physics unearths public service and a dedication to increasing the number of talented young minority scientific professionals. Her journey begins at Bennett College, a historically black college/university, in Greensboro, North Carolina. Hattie earned a bachelor's degree in chemistry and biology, which ignited her desire to pursue further education. She was given an opportunity for education in radiation protection with the possibility of having graduate record exams paid for. She applied to many schools with health physics programs and ultimately selected Rutgers University.
During her graduate studies, Hattie met Dr. Francis Haughey, late professor emeritus of health physics at Rutgers University and State University of New Jersey's Cook College. Haughey encouraged Hattie to pursue health physics further through his kind and friendly nature, which was uncommon toward people of her race in the early 1970s. With his mentorship, Hattie focused her master's thesis on the radiation exposure people received from the Hiroshima and Nagasaki bombs. Specifically, she questioned the uncertainty of the distance from the bomb, as that had a significant impact on the amount of radiation exposure people received. The thesis topic, though risky in nature, provided data later used to a large extent to determine acceptable radiation exposures. Hattie graduated from Rutgers University in 1971, one of only nine health physics students, the majority of whom were women.
After graduating from Rutgers, Hattie earned a post-graduate internship at Brookhaven National Laboratory (BNL), where she gained experience. However, due to a lack of diversity and BNL's rural location, Hattie desired to further her pursuit of health physics in a more diverse setting that would also accommodate her love of travel. With this determination, she interviewed and later began a career working at Lawrence Livermore National Laboratory (LLNL) as a health physicist.
Working for the Department of Energy (DOE), Hattie made pathways that placed her in the top tier within health physics. Moreover, the experience allowed her to earn an opportunity to work at the International Atomic Energy Agency (IAEA) in nuclear safeguarding. Gaining the chance to work in Vienna did not come easy. As a black woman, she faced adversity from her peers, but that did not stop her from taking the opportunity to work for the IAEA in an area of health physics unknown to her. She said, "I was determined to gain a position there. I was already going on a trip to Kenya! So, I wrote a letter to someone who worked [at the IAEA], but I did not hear back … I took upon myself to find who this person is and showed them I am interested! I took a trip to Austria … I knew German, since I took a course in the language, and I found my way to the IAEA." Those words alone show her determination and resilience in pursuing her passion.
With her everlasting willpower, Hattie earned a position in nuclear safeguards and worked at the IAEA for five years. Throughout those years, she not only traveled Europe, she joined several different professional groups to engage in her interests. Nonetheless, with the lack of the ability to volunteer within the local community, Hattie returned to DOE. Although the work environment there had changed so that those who were less dedicated to health physics were the ones who were promoted, Hattie persevered. The ability to travel and interact with other professionals in health physics gave Hattie the fuel to keep working endlessly to change that work environment for generations to come.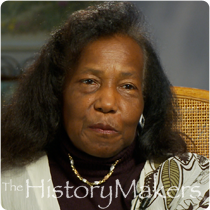 Hattie Carwell
Photo courtesy of The HistoryMakers
 
By the end of her career, Hattie became an expert in accelerator health physics and brought many operations in the national labs to the modern world, which increased their cost-effectiveness. Under her watch, Hattie created a safer work environment at her assigned locations, in which no fatality or serious incident occurred.
In addition to her amazing career in health physics, Hattie wrote a book in 1977, Blacks in Science: Astrophysicist to Zoologist, to present an exhaustive list of black inventors and the achievements of those who pursued careers in STEM (science, technology, engineering, and mathematics). She also created a national scholarship fund in 1983 for minority students. She cofounded the Museum of African American Technology Science Village, in Oakland, California, to collect and preserve African American achievements and create activities for local children. Hattie served on the National Technical Association board and the International Network on Appropriate Technology board and was president of the Northern California Council of Black Professional Engineers. She serves as the coordinator for the Coalition of Hispanic, African, and Native Americans for the Next Generation of Engineers and Scientists (CHANGES).
Hattie's dedication to serving her community is her life achievement. Her initial goal was to create a minority women's group within the Health Physics Society (HPS), but at that time the Society wasn't ready to support her efforts. Nonetheless, she eventually succeeded in creating a minority women's group in science, which has always been her active goal. Currently, she holds symposiums to bring black women together in science to discuss and celebrate successes. She has also expanded the list of African Americans in the Manhattan project to 26 (an increase since the 15 mentioned in Sidni Moore's presentation at the 2020 HPS Virtual Meeting Diversity and Inclusion session).
Hattie Carwell is a true hidden figure within the health physics world. She is a leader to minority women across America. She dedicates her life to community service, encouraging minority students and early career professionals to pursue science and educating young children about the marvelous black and brown scientists who came before them. This is what a leader and woman of science is meant to do, and for that, we say, "Thank you, Hattie!"
Now you understand
Just why my head's not bowed.
I don't shout or jump about
Or have to talk real loud.
When you see me passing,
It ought to make you proud.
I say,
It's in the click of my heels,
The bend of my hair,
the palm of my hand,
The need for my care.
'Cause I'm a woman
Phenomenally.
Phenomenal woman,
That's me.
            --Excerpt from "Phenomenal Woman" by Maya Angelou, 1978
Want to learn more about Hattie Carwell? Check out The History Makers website.