Upcoming HPS Meetings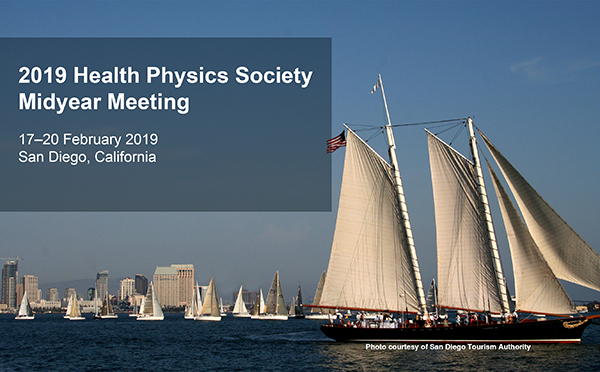 The 52nd Midyear Meeting of the Health Physics Society will be held in the oceanside city of San Diego, California, 17–20 February 2019. This is the perfect time to take a winter break from the cold! Known for its warm climate and beautiful Pacific beaches, San Diego offers a variety of activities including easy access to nearby parks and the San Diego Zoo.
The Sheraton San Diego Hotel is the meeting hotel, with a room rate of $189 per night—good for the dates of 12–26 February.
Persons attending HPS meetings should note the HPS Respectful Behavior Policy.
Call for Abstracts
Deadline: 21 September 2018
The midyear will not be a topical meeting, so we are strongly soliciting the full spectrum of radiation protection specialties. Everyone is welcome to come to share their work to make this a wonderful midyear meeting!
Contributed abstracts are requested for sessions on the following topics:
Accelerator
Biokinetics/Bioeffects
Decommissioning
Emergency Planning/Response
Environmental
External Dosimetry
Homeland Security
Instrumentation
Internal Dosimetry and Bioassay
Medical Health Physics
Military Health Physics
Nonionizing
Operational Health Physics
Reactor Health Physics
Regulatory/Legal Issues
Risk Analysis
Other Special Session (specify)
Please submit your abstract (including special session abstracts) through the HPS website. Please contact Midyear Task Force Chair Greg Komp regarding special sessions.
The deadline for submitting abstracts is 21 September 2018. Submittal and presentation guidelines can be found on the meeting Call for Abstracts page of the HPS website.
"Applicability of Radiation Response-Models to Low-Dose Protection Standards," cosponsored by the American Nuclear Society and the Health Physics Society, will be held 30 September–3 October 2018, in Pasco, Washington. This meeting will provide an international forum for the discussion of current regulations and standards regarding low-dose protection. More information can be found on the meeting's website.
7-11 July 2019, Orlando, Florida
Fun Things to Do With the Family
Disney provides exclusive after 1 p.m. and after 5 p.m. twilight tickets and special discounted multiday tickets to the HPS that are not available at the ticket windows. The multiday tickets include a complimentary admission to an additional Disney experience like a day at a water park or game of mini golf. To purchase specially priced Disney Meeting/Convention Theme Park tickets, please call 407-566-5600 or click on the castle. Please note the cut-off date for advance purchase savings is 5 p.m. on 5 July 2019.

The information and material posted in this area of the website reflects the expert opinion of the author(s), but does not necessarily represent the statements or positions of the Health Physics Society (HPS), unless specifically cited in official HPS statements and positions. Specific facts and circumstances may alter the concepts and applications of materials and information described herein. The information provided is not a substitute for professional advice and should not be relied upon in the absence of such professional advice specific to whatever facts and circumstances are presented in any given situation. Information is correct at the time it is posted on the website. Be advised that over time, some requirements could change, new data could be made available, or Internet links could change.