2018 HPS Annual Meeting In Review
15–19 July, Cleveland, Ohio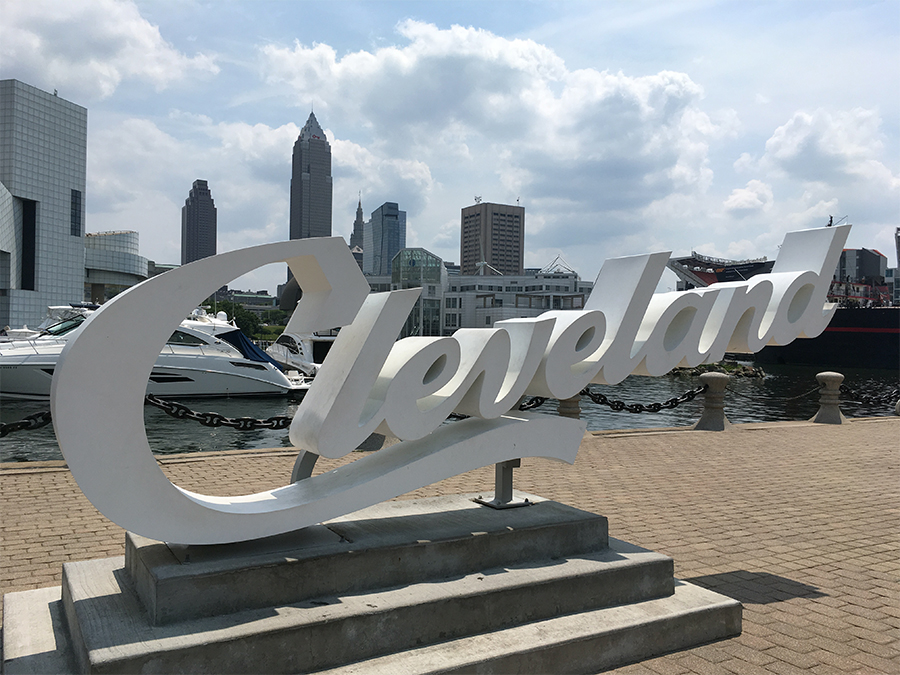 Photo courtesy of Mary Walchuk
Enjoy photos and information from the 2018 HPS Annual Meeting and Professional Development School, which were held in Cleveland, Ohio, in July. Keep checking back—this page will be updated periodically.
Special Session: Nanotechnology Activities and Opportunities
Nanotechnology Committee special session organizers, left to right, Jason Davis, Sophie Holiday, Mark Hoover, and Tristan Hay. Photo courtesy of Sophie Holiday
During the Nanotechnology special session, Tristan Hay presented "Challenges Regulating Radioactive Nanoparticles From a Regulator's Point of View"; Jason Davis presented "Biokinetic Changes at the Nano Level—Dissolution and Phagocytosis"; and Jeff Whicker provided the update "Revision of ANSI 13.56, Sampling and Monitoring Releases of Airborne Radioactivity in the Workplace of Nuclear Facilities." The session concluded with the annual Nanotechnology Committee business meeting and discussions of plans for transition to the Aerosols/Nanotechnology Section. Discussions are ongoing and input and ideas from across the HPS are welcome and can be emailed to Mark Hoover.
Continuing Education Committee
Continuing Education Committee members discussing the path forward. Photo courtesy of Kathy McLellan, committee chair
Health Physics Society Standards Committee
HPSSC annual meeting in Cleveland. Photo courtesy of Casper Sun
Back row, left to right, Gus Potter (N13 member), Greg Komp (N43 chair), Chris Passmore (HPSSC member), Jim Herrold (ISO/TC85/SC2 chair), Dave Bytwerk (HPSSC member), Kyle Kleinhans (HPSSC member). Front row, left to right, Michelle Baca (HPSSC member), Shirley Xu (HPSSC member), Antonio Triventi (HPSSC chair), Matthew Barnett (N13 chair), Sandy Perle (HPSSC member). Photo courtesy of Casper Sun
The Health Physics Society Standards Committee (HPSSC) annual meeting was convened in Cleveland, Ohio, on Wednesday, 18 July 2018. The purpose of the HPSSC is to oversee the writing and publication of ANSI/HPS consensus-balloted standards in the health physics topical area in response to requests from various organizations and individuals or upon the initiative of the HPSSC itself. The HPSSC is currently overseeing the activities of two ANSI Accredited Standards Committees, N13 and N43, with the intent of ensuring integration among the respective standards. The HPSSC is also concerned with HPS organizational representation to other national and international standards organizations such as N42 and ISO/TC85/SC2. For additional information about the ANSI/HPS standards and HPSSC activities, please visit the committee website.
Medical Health Physics Special Session
Cochair Kendall Berry, center, introduces Sandy Konerth, left, as Cochair Deirdre Elder looks on. Photo courtesy of Linda Kroger
Dr. Mike Stabin imparts his words of wisdom on the crowd. Photo courtesy of Linda Kroger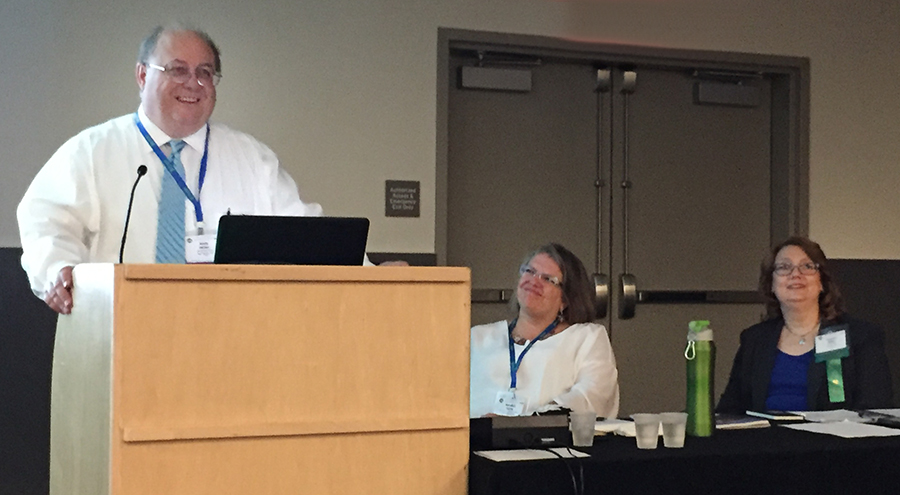 Andy Miller enlightens the group on treatment with 223Ra. Photo courtesy of Linda Kroger
Bryan Lemieux discusses 131I therapy. Photo courtesy of Linda Kroger
Health Physics Garage Sale—A Follow-Up
Ken Krieger, far right, organized the first Health Physics Garage Sale. Gen and Chuck Roessler check out the items available. Photo courtesy of Mary Walchuk
Kenneth Krieger, CHP
I had many comments that this was more of an auction rather than a garage sale. I agree, but the original idea was to get these items out of someone's garage and off the shelf so others could enjoy them. The garage sale was a success in several aspects. It raised about $650 for the HPS and many people came to look at the items, which sparked some good conversations. Some items that generated interest were a piece of graphite from the original reactor pile, the original BEAR report, and the proceedings from the initial meeting of the International Radiation Protection Association in Rome.
Several people said, "I should have brought my ___"—hopefully everyone will remember to bring their ___ next time, so we can have a greater variation of items not only to make the garage sale a money maker for HPS, but also to generate more stories and conversations about the items as well.
Ron Leuenberger, CHP, PDS Administrative Dean
How did 32 hours of Commission on Accreditation of Medical Physics Education Programs (CAMPEP) Medical Physics Continuing Education Credit (MPCEC) training come to be compressed into 2.5 days? See below! 
The 2018 Health Physics Society Professional Development School, "Medical Physics Future and Beyond: Evolution of Medical Health Physics" was held 18–20 July in Cleveland, Ohio. The PDS out-of-the-box included the following firsts for HPS:
PDS alignment with the annual meeting of the HPS, allowing those at the meeting to attend PDS lectures for Professional Enrichment Program and continuing education lecture credit.
Five hands-on breakout sessions (4 hours each, totaling 20 hours).
CAMPEP MPCEC (32 hours total with 12 lectures and 20 hours hands-on with 5 sessions).
Sponsor-provided six training locations, hands-on equipment, instructors, and two dinners.
A live-stream Think Tank Panel Discussion.
This PDS exposed approximately 100 students to out-of-the-box thinking on emerging technologies and challenges for medical health physicists to remain relevant into the 21st century. I thank the HPS Board for allowing us to present a new venue with forward thinking. I invite you, the membership of HPS, to hold on for the ride to come.
Sponsors, Sponsors, Sponsors:
Case Western Reserve University
Philips Healthcare
University Hospitals of Cleveland
VA Healthcare System
Cleveland Clinic Foundation
LACO
Ludlum Instruments
Mirion